✧ 𝕒𝕓𝕠𝕦𝕥 𝕞𝕖 ! ! ✧

abie ( eɪ-biː )


he / it


july 30th


queer & autistic !!!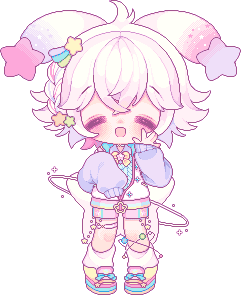 It's a pleasure to meet you, passenger! My name is ABXY, but people just call me Abie (like the letters A-B, hehe).
A little about me is that I am a pretty shy individual, but I love making friends. Once I've bonded with you, it's difficult to get rid of me. The easiest way to my heart is sharing a good laugh!
I'm learning how to be a VTuber, exploring the galaxy while drawing and playing video games in my spare time. I hope I can bring a smile to your face, and show you sights beyond your wildest imagination. . .
This is what I look like, if you couldn't already tell by looking around my website, hehe.
I absolutely adore fanart of all sorts, so don't be afraid to tag me on Twitter or DeviantART <3 !!!
Disclaimer:
My species is not open to the public, and my design was custom made for me, so if you take any inspiration from my design, please keep that in mind. ♡
Thank you for being respectful and for understanding.
All rights reserved, website assets and coding are not free to use,
assets and coding done by
@strawbunimilk